News
How China Assaulted Indian Soldiers? | Chinese Weapon | Iron Rods & Nail-Stubbed Clubs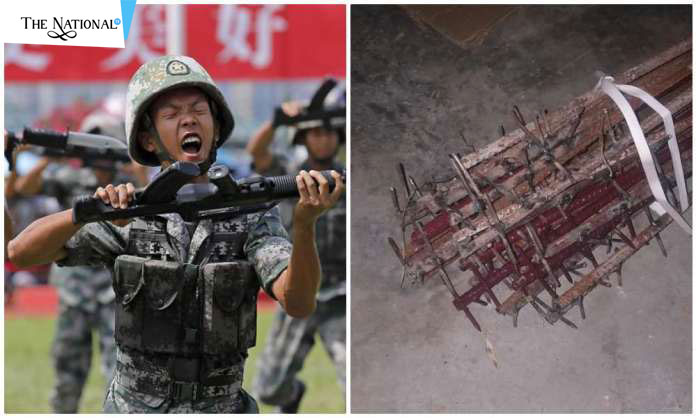 The violent face-off that happened at nearly 15,000 feet near the Galwan river has given the world a reality check that China can never be trusted and had made India realize that it's time to take serious calls against China. In a violent face-off, the Indian soldiers were attacked with iron rods and nail-studded clubs. There was no gun firing in keeping with long-standing rules of engagement.
China had earlier agreed on disengagement at a meeting held last week between senior military officers of the two countries in "an attempt by the Chinese side to unilaterally change the status quo" the army said last night, confirming the loss of 20 Indian soldiers, many of whom, it said died of injuries and were "exposed to sub-zero temperatures."
Many of those killed by China appears to have been punched or shoved off a ridge onto rocks and the ice-cold river. Post mortem reports of those killed had shown that "primary reason for death is drowning and it looks like they fell from a height into the water because of head injuries," an official told news agency AFP.
This has now been converted into serious border matter but India has clearly conveyed to China that the deadly clash in eastern- Ladakh will have a "serious impact" on the relations between the two countries.
This is the worst clash that has occurred in nearly five decades along the border with China where 20 soldiers including a Colonel have been killed in the line of duty. Their sacrifice "will not be in vain," Prime Minister Narendra Modi said today in his first comments on the Galwan Valley clash giving assurance that India believes in peace but is capable of giving befitting reply when needed.
Read More Latest Bollywood Movie Reviews & News
Read More Sports News, Cricket News
Read More Wonderful Articles on Life, Health and more
Read More Latest Mobile, Laptop News & Review